Lafayette 16030 Stability Platform
The Stability Platform measures balancing ability, which is essential to successfully performing many activities. The Model 16030 Stability Platform features fully integrated timing functions for test control and electronic angle measurement for unsurpassed accuracy. The platform control allows a wide range of user settable parameters including variable test times, selectable angle limits, and digital tilt angle readout. With the Stability Platform's rugged design and electronic capabilities, it will provide many years of reliable operation.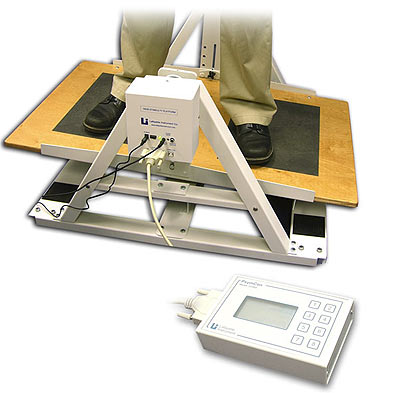 Electronic tilt angle measurements with digital angle readout
User selectable balance thresholds for left, right and center zones
Platform re-zero ability
Built-in timing functions for test and rest timing
Built-in repeat cycle counter for multiple trials
Built-in display for test data
Test Parameter storage
Analog output voltage proportional to tilt angle
Event marker to indicate test and rest intervals
Tone indicator to signal beginning and end of tests
Friction Free tilt action
Remote start
Benefits
Provides for accurate measurement
Removes guess work in setting the limits
Zero is relative for unique experiment designs
No external timer required
One test period or many, its your choice
Easy to read LCD puts all the information in one place
Repeating the experiment is easy with saved protocols
Compatible with data acquisition systems
Allows for synchronization of other data or systems
Ques the subject on test start and end
No tactile or audible feedback when limit crossed
Allows for greater flexibility in experiment design
Electronic
Angle Measurement Resolution: 1.0°
Platform Tilt Range: ± 30°
Measurement Limit Range: " 90°
Angle Limit Setting Resolution: 1.0°
Analog Output Voltage Range: 0-5 Volts
Analog Output Resolution: .028 V/°
Analog Output Rate: 25 samples/sec
Analog Output Time: 0.040 sec/sample
Test/Rest Time Limit: 999 sec
Test/Rest Time Resolution: 1.0 sec
Repeat Cycle Limit: 25
Test Timing Resolution: 0.001 sec
Timing Accuracy: .005%
Power Supply: 10 V external adapter
Event Mark Output: 0-5 V TTL
Platform
Platform Dimensions: 42" x 25.5"
Overall Dimensions: 42" x 38" x 22"
Platform Material: 3/4" Plywood
Frame Material: 1/8" Aluminum
The Stability Platform can be interfaced to the DataLab 2000 data acquisition system through 3.5mm stereo patch cords. Please ask us about the DataLab 2000 System!
Model 16030TS - Tension Strap Kit (Add resistance to the tilt action to make balancing easier.)
Model 16030SR - Hand Rail (Optional hand rail to assist subject in balancing or entering and exiting the platform.)


Model 35800 - PsymSoft (Windows based psychomotor experiment software.)