Jamar® Products
Jamar® Hydraulic Hand Dynamometer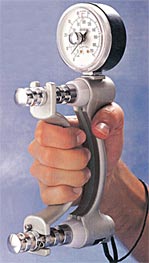 In today's health care environment, accurate and objective data is required for reimbursable rehabilitation services, making the Jamar Hydraulic Hand Dynamometer an indispensable tool. Ideal for routine screening of grip strength and initial and ongoing evaluation of clients with hand trauma and dysfunction. Virtually leak-proof hydraulics and isometric design ensure accurate, reproducible results and years of reliable service. Built to last, a shock-resistant rubber cap protects the stainless-steel gauge and a wrist strap prevents accidental damage if dropped.
The Jamar Hydraulic Hand Dynamometer combines precision with convenient features:
Dual-scale readout displays isometric grip force from 0-200 lbs. (90 kg.).
Peak-hold needle automatically retains the highest reading until reset.
Handle easily adjusts to 5 grip positions, from 1 3/8" - 3 3/8", in half-inch increments.
Unit comes with carrying/storage case and complete instructions.
Jamar® Plus+ Digital Hand Dynamometer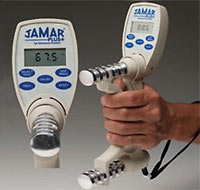 Ideal for routine screening of grip strength and initial and ongoing evaluation of clients with hand trauma and dysfunction. Sturdy aluminum body construction with scratch resistant UV coating. The readout displays isometric grip force from 0- 200 lbs. (90 kg.). The unit's easy-to-read LCD display can be set to display pounds or kilograms. The dynamometer also features digital load cell technology, Rapid Exchange Testing with audible signals, and automatically calculates the Average, Standard Deviation, and Coefficient of Variation. Two minute auto-off feature helps conserve battery power. Battery low life indicator. Requires two AAA batteries included. Comes in a reusable storage container.
Jamar® Hydraulic Pinch Gauge
Unlike conventional pinch gauges, the JAMAR Hydraulic Pinch Gauge's unique design frees the client to perform a true pinch pattern because the therapist, not the client, supports the weight of the gauge. A highly accurate pinch-force measurement, devoid of artifact, is the result. Red indicator needle remains at maximum reading until reset. Measures pinch force to 45 lbs. Includes instructions, handy carrying case and one-year warranty.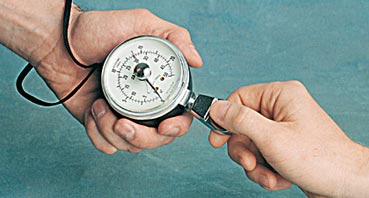 Jamar® Pinch Gauge - Plus+ Digital - 50 lb Capacity
The Jamar digital pinch gauge offers accurate and repeatable pinch strength readings (tip, key and palmer). It has an easy-to-read LCD display. It also has a push-button console that includes a button to zero last reading stored and two toggle buttons used to accurately store up to 99 readings. There is a wrist strap and one 3V battery included. Registers in pounds and kilograms.
Dimensions: 5" x 2" x 3"
Weight: 1 lbs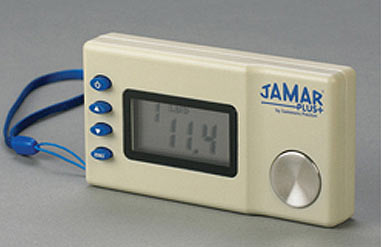 Jamar® Hand Evaluation Kit
All the basics for hand and finger evaluation, in one convenient package. Kit includes one each of:
Jamar Hydraulic Hand Dynamometer
Jamar Hydraulic Pinch Gauge
Jamar 5 1/2" Finger Goniometer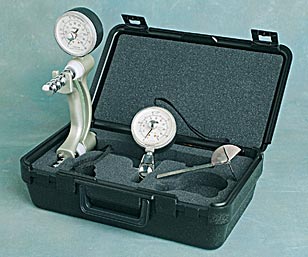 Comes in a convenient storage/carrying case with individual compartments for each instrument.
Jamar® Hand Evaluation 3-Piece Set
Features Plus+ Digital 200 lb HHD and 50 lb HPG
Jamar 3-piece digital hand evaluation set includes a Jamar digital 200 pound hand dynamometer, Jamar digital 50 pound pinch gauge, and 6" finger goniometer. Ships in a protective carrying case.
Dimensions: 14" x 4" x 10.5"
Weight: 6 lbs
JAMAR is a registered trademark of Sammons Preston.