Baseline® Hydraulic Wrist/Forearm Dynamometer
You can simply and accurately measure strength of the wrist muscles during flexion, extension, abduction and adduction and the forearm muscles during supination and pronation. The "door-knob" grip (12-0261) is included with the dynamometer. Other grips are available as optional accessories. Grips can be easily interchanged.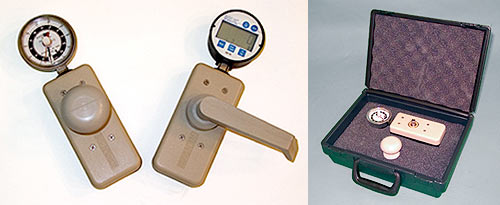 The Baseline wrist/forearm dynamometer features the time proven hydraulic system that is used in the industry accepted Baseline and Jamar hand dynamometers and pinch gauges. The wrist dynamometer comes with a table-mounting bracket (12-0266) designed to stabilize the instrument during muscle evaluations. For handheld use, the dynamometer can accommodate the Baseline single-grip (12-0385) and dual-grip (12-0389) handle.
The Baseline wrist dynamometer comes with a portable carrying case and is CE certified.
Available Models
Baseline wrist/forearm dynamometer
Includes doorknob grip, mounting bracket and case
12-0250 - dial
12-0251 - digital display
Optional accessories






12-0261 - knob grip (included)
12-0262 - shovel handle
12-0263 - lever handle
12-0264 - rod/pipe grip
12-0266 - mounting bracket
12-0385 - single grip handle
12-0389 - dual grip handle
Baseline Wrist Evaluation Sets
The portable carrying case contains all the instruments needed to evaluate the strength and range-of-motion of the wrist and forearm. The set includes a wrist inclinometer (12-0502), wrist dynamometer (12-0250 or 12-0251) and the door knob grip (12-0261).



12-0114 - 500lb analog (with 12-0250)



12-0115 - 500lb digital LCD (with 12-0251)
Baseline is a registered trademark of Fabrication Enterprises Incorporated.