Lumbar ProSoft
Lumbar ProSoft 2.0 is Windows compatible (NT, W2000, XP) software for the older LMM (Lumbar Motion Monitor) previously sold by Chattanooga Group, Inc. (NOTE: Prosoft will not read files created from Chattanooga DOS or Chattanooga Windows Beta software.)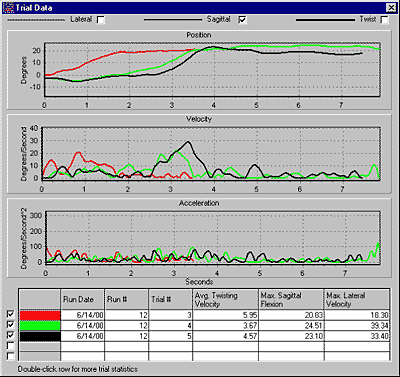 The LMM has numerous applications in industrial ergonomics and in clinical settings. The LMM breaks the work into individual job tasks for analysis of the specific range of motion, velocity and acceleration moments on the lumbar spine. The LMM allows you to compare the task to a normative database of common variables associated with jobs that have a high incidence of low back disorders. These comparisons, combined with the data from the job site assessment, allows you to recommend ergonomic changes.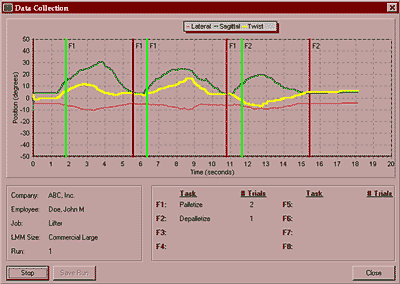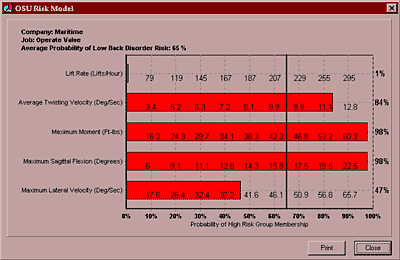 The latest version is fully compatible with the Lumbar Motion Monitor developed by Dr. William Marras of Ohio State and follows years of extensive research and development. Lumbar ProSoft is much easier to use and includes new features such as assessments based upon the 1981 and 1991 NIOSH lifting guides and Snook psychophysical tables as well as a new Task Manager.
Lumbar ProSoft 2.0 Highlights:
Easier and more intuitive navigation. "Hot buttons" have been added to assist users in the software's use and in navigation


The software can now be operated using a mouse device in addition to keystrokes and function keys


Improved data exporting capabilities including Microsoft Access format. You can now export summary trunk motion statistics for each trial, as well as trial level time dependent trunk motion data.


Assessment of Low Back Disorder Risk can now be calculated across a job (for overall job) that is composed of several subtasks, in addition to calculations of risk for each subtask (In the DOS version, only subtask calculations are available.)

In addition, risk can now be assessed by computing averages across several employees performing the same job or subtask.


Jobs can now be assessed using the NIOSH 1981 and 1991 lifting equations as well as through the use of psychological tables for lifting, lowering, pushing and carrying tasks.


Warning and alert messages have been added to prevent the user from making errors during data collection and analysis, such as the necessary number of trials for an LBD Risk Analysis, and the necessity to offset the LMM voltages before use.


User controlled start and stop has been added for data collection which is necessary for tasks where the cycle times vary, even within the same task.
Lumbar ProSoft is copyright Ohio State University.
Dr. W. Marras is the patent holder for the LMM technology.