HumanCAD® Modules
HumanCAD's plug-in architecture can support a variety of modules from NexGen. The following modules are currently available:
Advanced Functions Set
Advanced mannequin representation with more realistic degree of freedom and more segments which include detailed spine model (18 versus 3), ulna-radius rotation
Mannequin with customizable head variable using US Army 1988 and Canadian military database of 1997
Mannequin skeleton representation
More detailed shoulder model
Collision detection
Comfort zones
Additional Discomfort/Comfort analysis
Enhanced customized anthropometry
Animation capability which includes collision detection and attached objects support. Animation module provides a choice of interpolation, option to save as a video file and an option to interface with selected ErgoTools (ErgoTools module required).
Additional anthropometric databases:

ANSUR I (1989) male and female
ANSUR II (2012) male and female
Canadian Army LF (1997) male and female
CSUM (for CAESAR summary data) for male and female
Selections of nodes even at the vertebrae level for inverse kinematics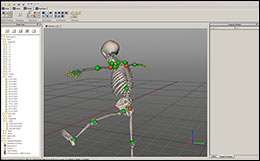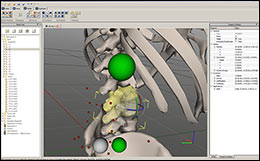 Click thumbnail images to see larger versions.
Skeleton representations of both standard and advanced mannequins
CADExchange
With the optional CADExchange module, HumanCAD customers can import IGES, STEP & STL file formats and export IGES, STEP, STL and DWF file formats. The IGES v5.3 and STEP (AP203 and AP214) formats are supported.
DXF, FBX, OBJ, OSG, OSGB, OSGT, OSGX, IVE, and 3DS file format support come standard with HumanCAD.
ErgoTools
ErgoTools is an optional HumanCAD module that includes:
Three-dimensional biomechanical model with predictions of the entire body
Interface with University of Michigan's 3D SSPP model (V7.1.3)
Revised NIOSH Lifting Equation
Energy Expenditure
OWAS
Snook and Mital tables
RULA
Hand strength MAE (Maximum Acceptable Efforts) & AFF (Arm Force Field) methods. The MAE method is designed for repetitive tasks that use frequency and/or duty cycle (DC) to predict maximum acceptable efforts (MAE) as a percentage relative to maximum voluntary efforts (MVE). The AFF method predicts manual arm strength (MAS) for a wide range of body orientations, hand locations and any force direction. This method uses an artificial neural network (ANN) to predict the effects of hand location and force direction on MAS and includes a method to estimate the contribution of the arm's weight to the predicted strength.
Task Analysis Wizard offers a fast and easy to use way to analyze one or more tasks using several of the ergonomic tools available in HumanCAD. The wizard guides the user in each step of the process and the results of the analyses can be exported into a word processor compatible format.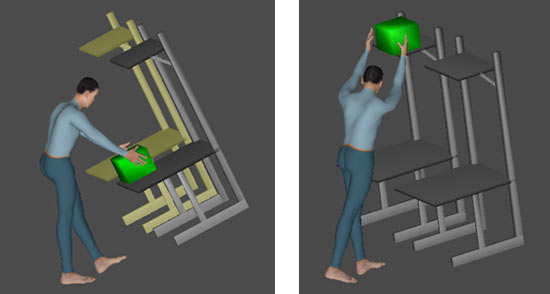 Child Module
Create digital mannequins of children from a variety of age groups from 1 to 19 years of age using various databases. Ranges of Motion (ROMs) are available as well as BSIPs.
Elderly Module
Digital elderly mannequins can be created from multiple databases and age ranges.
Ranges of Motion (ROMs) are available (for each age group, gender and ethnicity of the added elderly databases) as well as BSIPs databases for elderly populations.



HumanCAD is a registered trademark of NexGen Ergonomics Inc.
CADExchange is a trademark of NexGen Ergonomics Inc.