FSA Smart Bed and Seat Solutions
The goal of a Smart bed is to continually optimize the sleeper's pressure distribution providing better comfort. The bed incorporates the Stretch sensor to provide real-time data acquisition and can dynamically adjust a person's pressure distribution as they lie on a bed. This requires no intervention by the person on the bed.
A Smart bed is typically composed of a multiple air bladder bed with a patented stretch sensor. The sensor stretches in 3D and is fully breathable. It is placed under the cover of the bed and continuously maps a person's pressure distribution.
A Smart bed system can help maximize air pressure across a bed's multiple zones. For example, a Smart bed system system can sequentially adjust air by inflation and deflation and optimize each zone until a beneficial pressure distribution is achieved across the entire bed. During this process the Stretch sensor begins to pressure map and can actively display the current pressure distribution.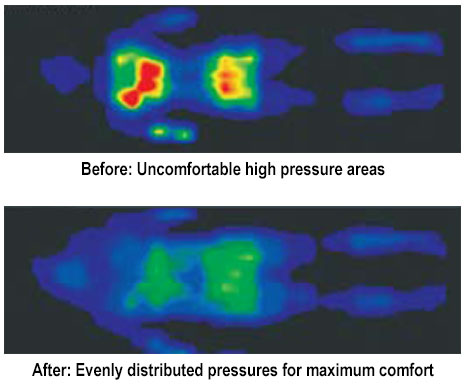 Hospital beds can now provide additional patient comfort which is important after many surgical procedures. Imagine a bed that continuously sensor's a patient pressure distribution and then automatically adapts to redistribute pressures away from vulnerable parts of the body.
Similarly pressure data results in smart seats can automatically adjust seat pressure. Imagine car seats that only remember what the driver's seat position was but also can adjust to maximize the seating comfort of the current driver. First class airline seating can now go the extra mile by adjusting to the passenger's anthropometry and sitting posture to maximize comfort.
Smart products are custom engineering solutions and our technical group can work with you to obtain the solution to meet your specific needs. Contact us to discuss how this technology can be applied to your products.