ErgoImager™
ErgoImager™ is a unique 2D/3D translation tool that allows you to perform 3D biomechanical analysis using 2D digital images.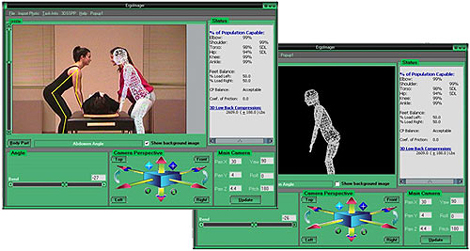 Product Overview
ErgoImager allows users to import digital images and superimpose a 3D mannequin using various translation techniques and technology from our 3D human modeling technology and then interface with University of Michigan 3D SSPP model (3D SSPP). ErgoImager provides reports with the original image, mannequin in the posture matching the image and selected results from the 3D SSPP.
Other NexGen products that interface with the 3D SSPP are HumanCAD and ErgoMaster.
Product Features
Import digital images from any source
Translate 2 dimensional coordinates into 3 dimensional coordinates
Interface with University of Michigan's 3D SSPP model
Produce reports with original digital images, 3D mannequin and biomechanical results
Save time on biomechanical analysis
System Requirements
Microsoft Windows XP
Compatible with Windows XP styles
128MB memory minimum
20MB of available hard disk space
3D Hardware accelerated graphics card
ErgoImager 15-Day Trial
Email us at salesinfo@nexgenergo.com for a 15-day trial. Please include your name, position, and complete contact information including address and telephone number. We will respond within one day with the download link and password to install the trial software. Please note that the University of Michigan 3D SSPP V5.0.9 is required to run ErgoImager. 3D SSPP Version 6 has similar features to ErgoImager.
NOTE: Software trials are provided for evaluation only prior to possible purchase by those involved in the evaluation and decision process. We also provide them to students when the university has purchased the software and the trial is coordinated thru academic staff.
HumanCAD and ErgoMaster are registered trademarks of NexGen Ergonomics Inc.
ErgoImager is a trademark of NexGen Ergonomics Inc.
3D SSPP must be purchased separately from the University of Michigan.