Casella Sound Level Meter Accessories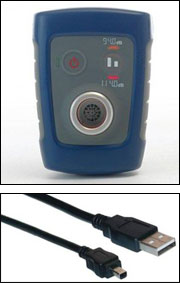 Calibration is an important feature for any sound level meter and the CEL-120/2 single level device is available in all the standard kits to confirm the correct operation of your meter. It delivers a steady level of 114 dB at a frequency of 1 kHz for accurate measurements in the field. The CEL-6840 kit case is custom designed to take all the standard accessories for the sound level meter kits. Packs of replacement foam windscreens are available in sets of 3 for your convenience. The CEL dB24 software allows for direct connection of the CEL-24X meter to a computer for live measurements and the CasellaDrive program that is also supplied on the CD allows for stored results from the CEL-242 and CEL-246 models to be downloaded from their memory upon return to the office after remote field measurements where it may be impractical to take a meter and computer. USB download and the facility for external power input through the socket on the bottom of all of the CEL-24X meters further extends their usefulness.
Upgrades are available to change any of the models into one higher up the range to add the time averaging or memory capability when needed.
| | |
| --- | --- |
| Model | Description |
| CMC51 | USB cable (regular A to micro B) for communication from suitable meters to computer (6ft) |
| CEL-120/2 | Single level (114 dB at 1 kHz) Class 2 acoustic calibrator with CEL-4726 adapter |
| CEL-6840 | Small kit case for CEL-24X & CEL-6X0 sound level meters and accessories |
| CEL-6841/K3 | Pack of 3 foam windscreens for sound level meters with half inch microphones |
| CEL-6842 | dB24 & CasellaDrive software for CEL-24X sound level meters |
| CEL-6618 | Lightweight Instrument Tripod |
| CEL-240/UP244 | Upgrade a CEL-240 to a CEL-244 with Leq and Lavg calculations |
| USB-PSU | USB power supply with micro USB connector (110 VAC to 5 VDC) |
| CEL-24X/UPLOG | Upgrade a CEL-240 to 242 or a 244 to 246 to add on-board data logging memory |