Mark-10 Digital Torque Tool Tester Series TT02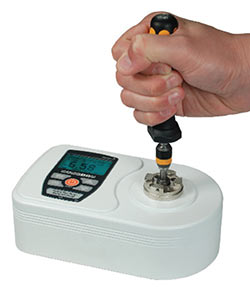 Mark-10 Series TT02 Torque Tool Testers present a simple and accurate solution for testing manual and electric torque screwdrivers, wrenches, and other tools. These testers are compact and rugged, suitable for production environments. A universal 3/8" square receptacle accepts common bits and attachments. The TT02 captures peak torque in both measurement directions, and also calculates 1st and 2nd peaks, useful for click-type tools.
A blazingly fast sampling rate of 7,000 Hz and accuracy of ±0.3% produce reliable and consistent test results. The TT02 includes a range of sophisticated productivity-enhancing features, including USB, RS-232, Mitutoyo, and analog outputs, automatic data output/zeroing/data storage upon tool slip or click, memory storage for 1,000 readings, pass/fail indicators and outputs, and more. Password protection is provided to prevent unauthorized changes to settings and calibration.
Mark-10 Series TT02 testers include MESUR™ Lite data acquisition software. MESUR™ Lite tabulates continuous or single point data. Data stored in the TT02's memory can also be downloaded in bulk. One-click export to Excel allows for further data manipulation.
Note: Not for use with impact or pneumatic tools.
Features and Specifications
First/second peak capture for CW and CCW directions
3/8" square receptacle accommodates common bits and attachments
High-speed 7,000 Hz sampling rate accurately captures peak torque values
1,000-point data memory with statistics and outputs
USB, RS-232, Mitutoyo, and analog outputs
Break detection: automatic output, data storage, and zeroing upon tool click/slip automates testing processes
Programmable set point indicators and outputs for pass/fail determination
Password protection prevents unauthorized changes
5 selectable units of measurement
MESUR™ Lite data collection software included
Controls & Indicators

Optional Equipment


<< AC1026-1 Rundown Fixture
Helps capture readings for electric tools from 0 to 50 lbFin [0 to 5.7 Nm]






<< AC1026-2 Rundown Fixture
Helps capture readings for electric tools from 50 to 100 lbFin [5.7 to 11.5 Nm]
ST001 Bench Mounting Kit
Mounts the TT02 securely to a bench for horizontal orientation.

ST002 Carrying Case
Provides storage space for the TT02 tester, rundown fixtures, bench mounting kit, AC adapter, and accessories.
Specifications
Accuracy:
±0.3% of full scale
Sampling Rate:
7,000 Hz
Power:
AC or rechargeable battery. Multi-step low battery indicator is displayed, tester shuts off automatically when power is too low.
Battery Life:
Backlight on: up to 7 hours of continuous use
Backlight off: up to 24 hours of continuous use
Measurement Units:
ozFin, lbFin, lbFft, Nm, Ncm
Outputs:
USB / RS-232: Configurable up to 115,200 baud
Mitutoyo: Serial BCD suitable for all Mitutoyo SPC-compatible devices
Analog: ±1 VCD, ±0.25% of full scale at capacity
General purpose: Three open drain outputs, one input
Set points: Three open drain lines
Configurable Settings:
1st/2nd peak, digital filters, outputs, automatic shutoff, default settings, key tones, backlight, audio alarms, passwords, calibration
Safe Overload:
150% of full scale (display shows "OVER" at 110% and above)
Weight:
5.8 lb [2.6 kg]
Included Items:
Universal voltage AC adapter, battery, quick-start guide, USB cable, resource CD (USB driver, MESUR™ Lite software, MESUR™gauge DEMO software, and user's guide), and NIST-traceable certificate of calibration (certificate with data is available for an additional charge).
Warranty:
3 years (see individual statement for further details)
Dimensions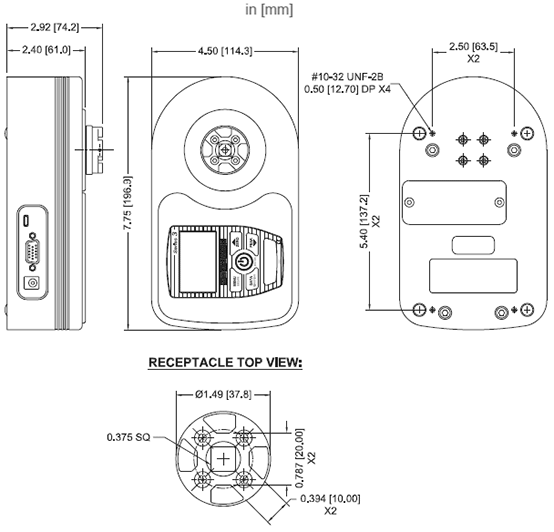 Ordering Information
Series STA torque testers include an AC adapter, battery, user's manual, and NIST-traceable certificate of calibration.
| | | | | | |
| --- | --- | --- | --- | --- | --- |
| Model | ozFin | lbFin | lbFft | Ncm | Nm |
| MTT02-12 | 192 x 0.1 | 12 x 0.005 | 1 x 0.0005 | 135 x 0.1 | 1.35 x 0.001 |
| MTT02-50 | 800 x 0.5 | 50 x 0.02 | 4 x 0.002 | 570 x 0.5 | 5.7 x 0.005 |
| MTT02-100 | 1600 x 1 | 100 x 0.05 | 8 x 0.005 | 1150 x 0.5 | 11.5 x 0.005 |
All models include 110V AC adapters. Add suffix E for euro plug (220V), U for UK plug (220V), or A for Australian plug (220V). Example: MTT02-12E, MTT02-50U, MTT02-100A
Optional Equipment
| | |
| --- | --- |
| Model | Description |
| ST001 | Bench mounting kit |
| ST002 | Carrying case |
| AC1026-1 | Rundown fixture |
| AC1026-2 | Rundown fixture |