Mark-10 Series E Ergonomics Force Gauges
Mark-10 Series E push/pull force gauges make job task analysis and ergonomics analysis simple and accurate, ideal for workplace design, strength assessment, and ergonomic studies. Series E presents the ergonomist and other professionals with a simple and economical testing solution. 100 lbF, 200 lbF and 500 lbF (500, 2,500, and 5,000 N) capacity force gauges are available, along with a wide range of attachments for various applications.
Series E gauges are also available in two kits for ergonomics applications:
Basic ergonomics testing kit EKE-100-1,EKE-200-1 & EKE-500-1
Advanced ergonomics testing kit EKE-100-2,EKE-200-2 & EKE-500-2
See below for details of included items in each kit.
We sell these products in various countries and currencies. Please contact us for discount prices. Volume discounts are available for multiple unit orders. We also have promotional offers with software bundled with force gauge kits.
Further discounts may also be applied when multiple products of different categories are ordered.
Select Order Form from our menu to request pricing or to place an order. You can also email us at salesinfo@nexgenergo.com.
Features
Measure real time and peak push and pull forces
Three measuring ranges: 100, 200, and 500 lbF (500, 1000, and 2,500 N)
5 units of measurement
USB data output
High / low limit indicators, for pass / fail and minimum force testing
Averaging mode calculates average force over a period of time
5,000-point data memory - data points may be saved individually or logged continuously at up to 7,000 Hz. Data points may be bulk downloaded to included MESURTM Lite data collection software.
Statistical calculations for saved data points
Includes AC adapter/charger, rechargeable battery, USB cable, USB driver, and carrying case
Accuracy is approximately ±0.2% of full scale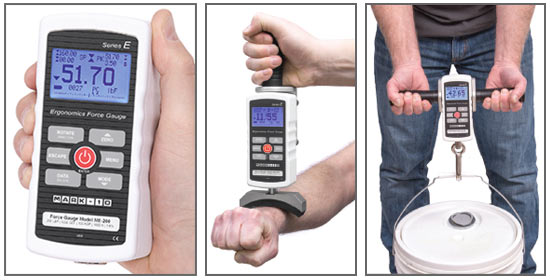 Attachments click and lock into place via innovative Click-LockTM technology, a rugged antirotation locking mechanism. The attachments may be clicked into 90° or 180° orientations. No fastening is required, as with conventional force gauges, thereby reducing the risk of damage to the instrument.

Specifications
| | | | | | | |
| --- | --- | --- | --- | --- | --- | --- |
| Model | lbF | ozF | kgF | gF | N | kN |
| ME-100 | 100 x 0.02 | 1600 x 0.5 | 50 x 0.01 | 50000 x 10 | 500 x 0.1 | - |
| ME-200 | 200 x 0.05 | 3200 x 1 | 100 x 0.02 | - | 1000 x 0.2 | 1 x 0.0002 |
| ME-500 | 500 x 0.1 | 8000 x 2 | 250 x 0.05 | - | 2500 x 0.5 | 2.5 x 0.0005 |
Force gauges include 110V AC adapters. Add suffix E for Euro plug, U for UK plug, or A for Australian plug. Ex: ME-100E, ME-200U, ME-500A
Optional Attachments & Accessories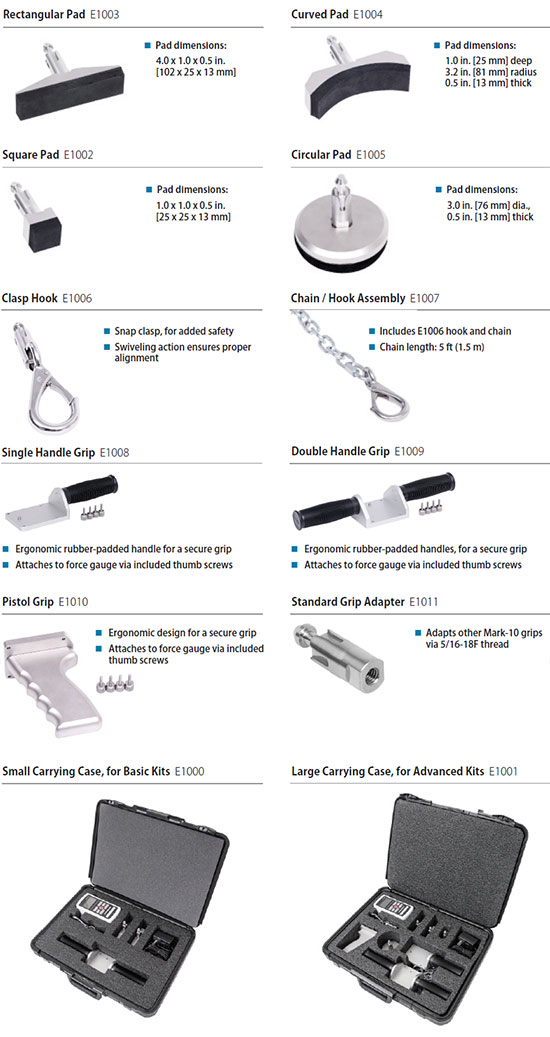 Included Items for Mark-10 Series E Ergonomic Testing Kits (EKE)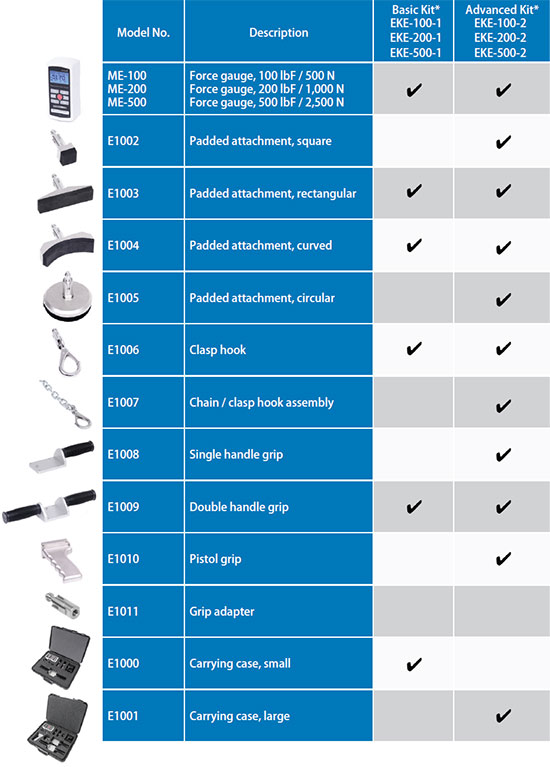 Note: Kits include a force gauge with 110V AC adapter. Add suffix E for Euro plug, U for UK plug, or A for Australian plug. Ex: EKE-100-1E, EKE-200-2U