Ergonomics and Biomechanics Products
HumanCAD®
NexGen will be releasing the initial Alpha for Version 6. All customers on annual maintenance are welcome to try it out and provide feedback.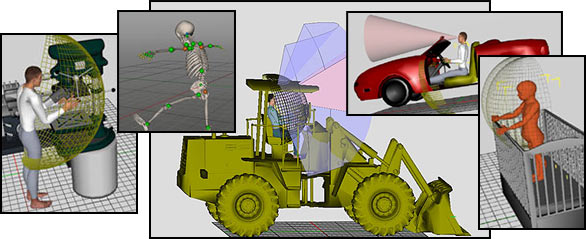 The following are expected to be included in V6.

New features in the standard product:
A balance feature which deals with the assessment of the human balance and stability in static (motionless conditions) or quasi-static conditions (such as standing). We also calculate and display the ground reaction forces for both feet and for each foot individually (displayed when the balance module is activated).
Clothing appearance options
New databases:
- Japan Young Adults 1992 male and female
- Australian Military 2012 male and female
A new Elderly Module which includes the following databases:
Japan Elderly 1992 male and female
DTI UK Elderly 1998 (four age groups: 65+, 65-74, 75+ and 85+) male and female
Ranges of Motion (ROMs) are available (for each age group, gender and ethnicity of the added elderly databases) as well as BSIPs databases were added for Elderly populations.
New in ErgoTools:
Hand strength MAE (Maximum Acceptable Efforts) & AFF (Arm Force Field) methods have been added. The MAE method is designed for repetitive tasks that use frequency and/or duty cycle (DC) to predict maximum acceptable efforts (MAE) (as a percentage) relative to maximum voluntary efforts (MVE). The AFF method predicts manual arm strength (MAS) for a wide range of body orientations, hand locations and any force direction. This method uses an artificial neural network (ANN) to predict the effects of hand location and force direction on MAS, and includes a method to estimate the contribution of the arm's weight to the predicted strength.
A Task Analysis Wizard has been added. The task analysis tool offers a fast and easy to use way to analyze one or more tasks using several of the ergonomic tools available in HumanCAD. The wizard guides the user in each step of the process and the results of the analyses can be exported into a word processor compatible format.
Updated Child Module:
Japan Kids 2008 database has been added (11 age groups, from 0 to 10 years old) male and female.
Ranges of Motion (ROMs) are available as well as BSIPs
New in CADExchange:
Optimization of shape triangulation export to STL and VRML
Optimized update of assemblies in XDE
Support of transparency as part of color specification in XDE
Refactored and optimized STL read / write module
Upgrade discounts are available to customers of previous versions of HumanCAD.
Current product information is at:
www.nexgenergo.com/ergonomics/humancad_prods.html
VATS™ (Vibration Analysis ToolSet)
NexGen will be releasing the initial Alpha for Version 4. This new version which has been completely redeveloped sports a new graphical interface and easier navigation. New features and enhancements include:
All calculated values and graphs can now be exported in PDF, CSV and HTML formats.
2018 ISO 2631-5 has been added.
User can now import from either Biometrics management software version 10 and higher or 9 and earlier versions as the data formats are different.
Larger files can now be processed.
Additional graph statistics have been added.
Existing customers are welcome to contact us to try it out and provide feedback or we can schedule a demo.

Our VATS software can also be purchased as a stand-alone software product to import acceleration data to be analyzed from other systems. VATS software is available for either hand-arm or whole body analysis. Hand-arm vibration analysis is based on the ISO 5349 and ACGIH standard for hand arm vibration (HAV). Whole body vibration analysis is based on the ISO 2631-1, 2631-5 (2004 and 2018), BS 6841, and ACGIH standard for whole body vibration (WBV).
Current product information is at:
www.nexgenergo.com/ergonomics/vats.html
Glove Pressure Mapping System (GPMS)
The new GPMS includes wireless capability as standard. Customers simply select USB or wireless in the software. The software has also been completely updated with a new graphical interface.

Learn more at: www.nexgenergo.com/ergonomics/nexglove.html
Mark-10 Products
Sales for Ergo kits hit another record. All Mark-10 ergonomic kits come with a 3-year parts and labor warranty. NexGen is currently offering a variety of promotions with software bundles and other discounts. Contact us for details.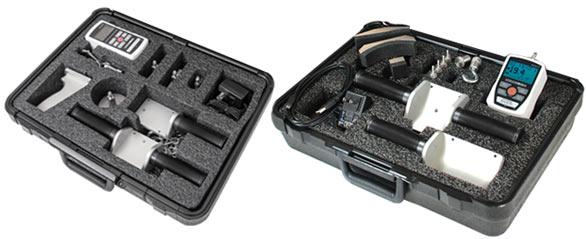 Learn more at:
www.nexgenergo.com/ergonomics/Mark10.html
I2M
A limited number of V1 sensors is available. Customers can also upgrade their systems to V2 technology.
Biometrics Ltd. Products
DataLITE ADVANCE is the latest addition to the DataLITE wireless sensor range of research and engineering products. It is a desktop unit incorporating all the same features of DataLITE with the addition of analogue outputs for each channel of wireless data. This standard analog output is easy to interface to and provides the user with a very simple, accurate and robust way of sending data to 3rd party systems.
24 analogue and 12 digital sensor outputs
Transfer DataLITE sensor data to 3rd party instrumentation such as video motion captures e.g. Vicon, Qualisys, and Peak Performance
Known exact latency of 100 ms delay to a 3rd party instrument
Additionally, once configured, DataLITE ADVANCE may be disconnected from the PC, allowing it to be used solely as an analogue output unit. This provides a very robust, novel product which may be used independent of the PC.
Tutorials
Several online instructional tutorials for customers, describing detailed guides to setting up and using their products are available. As well as being simple to use, the tutorials are easy to follow - allowing users to learn at their own pace.

These tutorials are available to customers only, and can be accessed by logging in with your username and password. Customers can request access to the tutorials by emailing us.
Learn more aboout Biometrics products at:
www.nexgenergo.com/ergonomics/biometrics.html