Ergonomics and Biomechanics Products
HumanCAD®
We are continuing our development of Version 6. We are currently updating our Alpha version and will contact all our customers on annual maintenance when the next Alpha version will be available for testing and to provide feedback. Our customers on maintenance can wait for the Beta version or the commercial release of this version.

Version 6 will include a new balance feature, more databases and other updates. In ErgoTools we have added the Hand Strength MAE (Maximum Acceptable Efforts) and AFF (Arm Force Field) methods. Additional databases and ROM data have been added to the child module.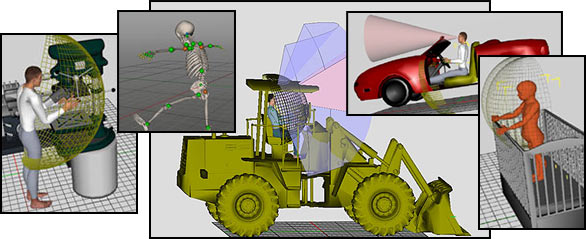 HM-Analyzer for Xsens MVN Systems
We are pleased to announce that our HM-Analyzer software is now available for the Xsens MVN systems.

Our powerful but easy to use HM-Analyzer software that runs on Xsens MTw Awinda systems also runs on Xsens MVN systems. It provides the user with considerable flexibility in which joints they want to analyze as well as multiple joint angle conventions, pose calibration options and a variety of analysis tools.

MVN customers can contact us for details and to obtain a software trial.
Click here to learn more.
Biometrics Ltd. Products
We are pleased to announce that the new DataLITE EXPLORE has been released and shipped to initial customers.

DataLITE EXPLORE is a wearable device that can perform data logging and storage for multiple sensors such as EMG, goniometers, accelerometers and other wireless sensors. Explore can also operate as a wireless receiver. It also provides a real time display when connected to a computer, as well as a removable micro SD Card for data backup.

A new Single-Axis Goniometer has been released to measure angles in one plane only. This is our smallest goniometer and is designed to measure flexion/extension of finger or toe joints.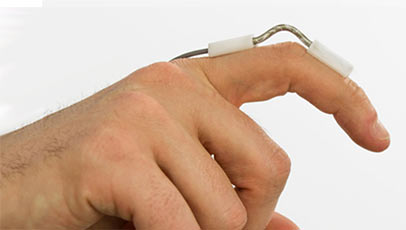 Click here to learn more about Biometrics DataLITE Wireless Systems.
Mark-10 Force Gauge Products
NexGen is pleased to announce that we are again offering special discounts of our ErgoIntelligence MMH EI-MMH-SCM: Snook & Ciriello and Mital Table analysis software with the purchase of Mark-10 force gauge kits to June 30, 2020. This promotion which was available for the last 3 months of 2019 was very successful. Please contact us for details.
All Mark-10 products come with a 3-year parts and labor warranty.

Click here to learn more about Mark-10 Force Gauges.
Click here to learn more about Mark-10 Advanced Ergonomics Testing Kits.
ErgoIntelligence UEA and MMH
We have released updates to these products correcting some minor Windows 10 compatibility issues as well as adding tools to assist in license installation.
FSA Pressure Mapping and Temperature Mat Solutions
The next version of temperature mats are being released with the new T10 interface that allows for easy selection of either direct USB PC connection or wireless connectivity. An updated version of PRO software is included with all temperature mats orders.

Click here to learn more.
VATS™ (Vibration Analysis ToolSet)
We will soon be releasing our initial Version 4 Beta. We would like to thank our customers who participated in reviewing the Alpha and providing their feedback.

Our VATS software can be purchased as a stand-alone software product to import acceleration data to be analyzed from other systems. VATS is available for either hand-arm or whole body analysis. Hand-arm vibration analysis is based on the ISO 5349 and ACGIH standard for hand arm vibration (HAV). Whole body vibration analysis is based on the ISO 2631-1, 2631-5 (2004 and 2018), BS 6841, and ACGIH standard for whole body vibration (WBV).

Our VATS data logger supports multiple accelerometers as well as other sensors such as FSRs.

Click here to learn more.
Tekscan Flexiforce FSR Products
An updated version of the Wireless ELF 2 System has been released. This includes a new wireless router for compatibility with Windows 10 computers.

Click here to learn more.