Lafayette Accumar Inclinometer and Accessories
Model ACU001
Compact, handheld unit features large digital display for easy reading. Store measurements with the hold button, and review maximum, minimum and average values. This full featured unit reduces examination time and enhances the objectivity of measurement and documentation. Supports range of motion evaluation as described in the AMA Guides to the Evaluation of Permanent Impairment. Inclinometer comes with built-in wireless transmitter to optional computer interface.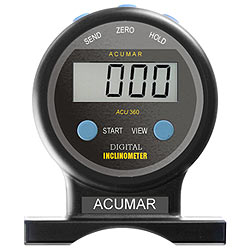 Model ACU002
Package contains Digital Inclinometer, as above, and Companion Unit. Also comes with case and connecting cable. Two-inclinometer technique and procedure is well defined in the 5th Edition of AMA Guides. Acumar Dual Inclinometer contains modern features that simplify measurements and increase objectivity. Acumar Dual Inclinometers can simultaneously capture both angles by the press of a single button. It allows up to six pairs of data for viewing and recording to greatly speed up data capture and analysis.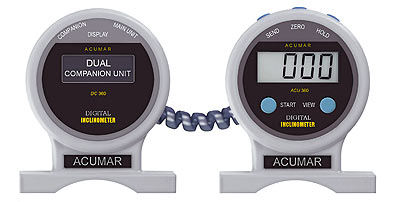 Model ACU010
Digital Inclinometer may be attached to the ruler. The measurement axis may be rotated 90°, electronically, to read angles with respect to the vertical axis. Use for orthopedic, podiatric, chiropractic, x-ray film evaluations.

Model ACU011
Optional infrared wireless computer interface eases data transfer from inclinometer to a computer. Example Excel® based template is provided to demonstrate getting started with a computer-based documentation and presentation system. Requires USB (Universal Serial Bus) port; example templates require Microsoft Excel® 2000 or later.
Model ACU015
The Acumar Digital Inclinometer Suite provides accuracy, repeatability and objective documentation of range of motion measurements.

The Acumar Complete Kit includes:
Dual Inclinometer Set Model ACU002
Wireless Computer Interface Model ACU011
Ruler Attachment Model ACU010